Office 2013 Showcase in Hyderabad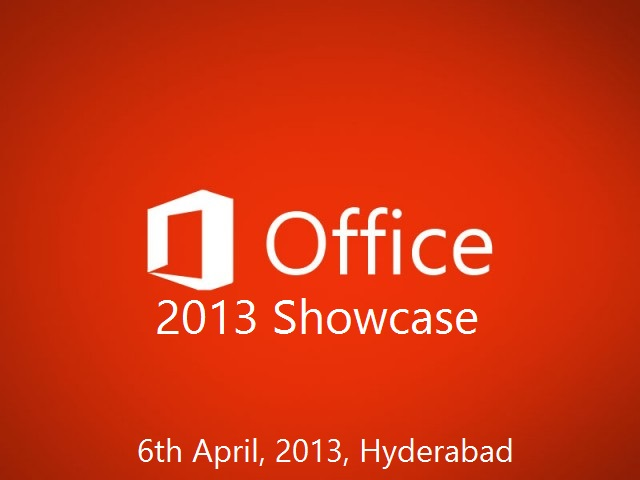 Office 2013 Showcase is an full day event exclusively on the new version of Office i.e., Microsoft Office 2013, Office 365 and SharePoint 2013 conducted by MUGH. The schedule is to be decided and will publish once the sessions are confirmed. But, you can find tentative schedule in the EventBrite Registration page.
For more details – http://blog.mugh.net/2013/03/join-us-at-office-2013-showcase-in.html
Direct Link for Registration – http://office2013showcase-mugh.eventbrite.com/
When?
6th April, 2013
9:00 AM – 5.10 PM
Where?
Microsoft IDC,
Gachibowli, Hyderabad.
Hope to meet you at the event!
TechDays 2013 in Hyderabad

This TechDays is exclusively for developers, where the attendees get to be a part of Technical and Coding Sessions. It will be a unique opportunity for you to learn the design/technical tenets in building an 'Immersive Windows 8′ App. During the event, we will take you through a series of activities to help you complete your very own compelling and immersive Windows 8 App, by offering guidance on creative and technical design.
Date: January 09, 2013
Time: 8:30 am – 11:00 pm
Venue:
Hotel Katriya #8
Raj Bhavan Road, Somajiguda
Hyderabad-500 082
Agenda:
| | |
| --- | --- |
| Time | Details |
| 08:30 am – 10:00 am | Registration |
| 10:00 am – 10:30 am | Opening Keynote |
| 10:30 am – 10:45 am | Tea Break |
| 10:45 am – 11:30 am | Platform for Windows Store Apps |
| 11:30 am – 12:15 pm | Designing Windows Store Apps |
| 12:15 pm – 01:00 pm | Windows Store Apps for .NET developers |
| 01:00 pm – 02:00 pm | Lunch |
| 02:00 pm – 02:30 pm | Moving the web forward with Internet Explorer 10 |
| 02:30 pm – 03:15 pm | What's new in WP8: Developers perspective |
| 03:15 pm – 04:00 pm | Windows 8 Connectathon with Windows Azure Mobile Services |
| 04:00 pm – 04:15 pm | Tea Break |
| 04:15 pm – 05:00 pm | Things to consider while porting WP7 apps to WP8 |
| 05:00 pm – 05:45 pm | Managing the Modern Application Lifecycle with Visual Studio 2012 |
| 06:00 pm – 11:00 pm | Appfest |
NOTE: You should be working on your Windows 8 App to participate in this event.
Please submit your App idea @ [email protected]
For more details, visit TechDays website
Community News/Windows Phone
Windows Phone Day at Hyderabad
  As a pre-cursor to Windows Phone Application Development Contest which is to be held on 26th Feb 2012, MUGH is conducting a training event Windows Phone …
Community News
MUGH November TechMeet
As usual, this month's TechMeet is planned on  26th November, 2011. This time it is going to be held at Microsoft Campus, Hyderabad. Sessions covers lates…
Community News
MUGH TechMeet – October 2011
Community News
Developer Conference 2011
DevCon is the event which concentrates on the topics which are exclusively intended for developers and sessions included in this directly concentrates on the ap…
Community News
MUGH TechMeet – 1 July, 2011
Lets meetup, learn together and network! Register: http://www.eventbrite.com/event/966102639 Agenda: Time Agenda Speaker 5:15 PM to 6:00 PM WCF Rest Services Ph…
Community News
TechEd on the Road, Hyderabad
We are pleased to announce Tech∙Ed on the Road, where we put together the best sessions from Tech∙Ed India 2011 is scheduled on 22nd May, 2011 at Hyderabad. Thi…
Community News
Windows Azure Camp
Windows Azure Camp is a one day event which has deep dive sessions, designed to help you speed up on developing for Windows Azure. Here is the Agenda… Tim…
Community News
MUGH Community Meetup
MUGH Community Meetup this month is confirmed and scheduled on 26th February 2011. You can follow this link for registering to the event. http://mughcommunityme..
Community News
A lap around UG Meet
Event started few minutes before the scheduled time as more than expected number of attendees gathered at the venue. Sidharth Sehgal delivered a session on Wind…
Community News
UG Meet
Happy New Year! First UG Meet of this year is scheduled on 8th January 2011. Here are the details… Time Topic Speaker 10:30 AM -11:30 AM Windows Phone 7 A.
Community News
Microsoft PDC10 Live Stream
Microsoft Professional Developers Conference (PDC) has been the epicenter of Microsoft's biggest platform announcements. Leading-edge developers and architects …
Community News
Community Tech Days in Hyderabad
Good to see that the dates for the Community Tech Days have been confirmed. It's now set for 24th January at Microsoft IDC in Hyderabad. The event has a great l…
RECENT POSTS
Building Apps for Office 2013 – Presentation
Can't edit Excel Files in Windows Phone 8 after opening in Excel Web App?
What's New in Excel 2013 – Presentation
Office 2013 Showcase in Hyderabad
New Update Released for Windows Phone – 7.10.8860.142
ARCHIVES
Building Apps for Office 2013 – Presentation
Can't edit Excel Files in Windows Phone 8 after opening in Excel Web App?
What's New in Excel 2013 – Presentation
Office 2013 Showcase in Hyderabad
New Update Released for Windows Phone – 7.10.8860.142
CATEGORIES
Announcements C# Community Deployment General jQuery Office 2013 Outlook Troubleshooting Visual Studio Extensibility VSTO Windows 8 Windows Phone
TAGS
.NET architecture Bootstrapper C# ClickOnce Code Snippets Community Community Events Community Meetup Community Tech Days Concepts CTD deploying deploying add-in Deployment e-book ebook Enhancements Events Excel 2013 Exchange Accounts File Transfer FTP loading slowly Microsoft Microsoft Events msdn MSDN Forum MUGH Office12 Office14 Office 2010 Office 2013 Outlook Outlook 2003 Outlook 2007 Outlook Addins Performance PIA Tips Troubleshooting Visual Studio VSTO VSX Windows 8