Building Apps for Office 2013 – Presentation
Recently, I gave a session on Building Apps for Office 2013 at MUGH Monthly Meetup recently. Following is the PPT that I have used while presentation. This session is for newbies of Apps for Office and covers overview of Apps for Office, how to kick start with its development and what development opportunities it provides. What is the deployment model. etc. Will share more details on each topic soon.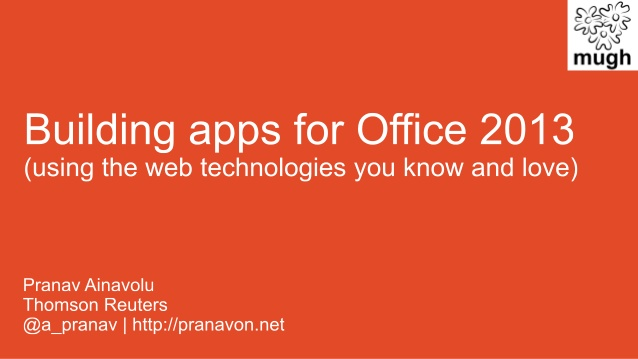 Posted in Office 2013 | Tagged Apps for Office, Office 2013, Office Development | Leave a reply
Can't edit Excel Files in Windows Phone 8 after opening in Excel Web App?
When you open your Excel file in Excel Web App and edit it. Then open it in your Windows Phone, you can just view it but can't edit. This is a bug recently found in Excel 2013. But no worries! As per Microsoft, this is a known issue and they are planning for a fix to it soon. Meanwhile – you can get rid of this problem with a work around.
Actually the problem is because of the file format that is being saved in Excel Web App (EWA). The Web App is adding new part to the file (which shouldn't be adding) and the phone app doesn't support this part. So, it then will not allow editing.
Here is a workaround that you can use to allow you to edit the file on your phone. The workaround is to use the Excel desktop application if you have that available to you.
The workaround is to:
Open the file in the Excel application from your computer
Edit at least one cell and do a Save
You will then be able to edit this file on your phone.
Posted in Office 2013 | Tagged Excel 2013, Office 2013 | Leave a reply
RECENT POSTS
Building Apps for Office 2013 – Presentation
Can't edit Excel Files in Windows Phone 8 after opening in Excel Web App?
What's New in Excel 2013 – Presentation
Office 2013 Showcase in Hyderabad
New Update Released for Windows Phone – 7.10.8860.142
ARCHIVES
Building Apps for Office 2013 – Presentation
Can't edit Excel Files in Windows Phone 8 after opening in Excel Web App?
What's New in Excel 2013 – Presentation
Office 2013 Showcase in Hyderabad
New Update Released for Windows Phone – 7.10.8860.142
CATEGORIES
Announcements C# Community Deployment General jQuery Office 2013 Outlook Troubleshooting Visual Studio Extensibility VSTO Windows 8 Windows Phone
TAGS
.NET architecture Bootstrapper C# ClickOnce Code Snippets Community Community Events Community Meetup Community Tech Days Concepts CTD deploying deploying add-in Deployment e-book ebook Enhancements Events Excel 2013 Exchange Accounts File Transfer FTP loading slowly Microsoft Microsoft Events msdn MSDN Forum MUGH Office12 Office14 Office 2010 Office 2013 Outlook Outlook 2003 Outlook 2007 Outlook Addins Performance PIA Tips Troubleshooting Visual Studio VSTO VSX Windows 8